(THUNDER BAY, ON) – In the mid-to-late '90s, a young Josh Berube would leave home every morning to deliver the Chronicle Journal with his family dog, Yamaha, by his side.
The German Shepherd wasn't a trained working dog, but every morning it would be at the boy's side while they marched together along the designated paper route. Two decades later, now a sworn officer for the Thunder Bay Police Service, Cst. Berube is again heading to work with a dog at his side.
"It's just funny now that I'm all grown up and I get this opportunity to go to work with a dog," Cst. Berube said.  "It's quite an opportunity and I'm very thankful to be in this position."
Cst. Berube and his partner Lucek officially began working as the Thunder Bay Police Service's K-9 unit on Jan. 5.  The deployment came after 18-weeks of training at the Ontario Police College.
The training appears to have paid off, as the newly formed K-9 Unit has already been deployed multiple times and recently assisted in the locating and apprehending of a robbery suspect.
"Lucek's moderately patient given his young age," Cst. Berube said, of the 20-month old Shepard-Malinois mix. "I think as time goes on we'll get closer to one another. I think he's learning a lot about me.
"He's growing on me as time goes on. I think throughout the training process he was so busy mentally and I was so focused on what I had to do as a handler, we didn't really get a great deal of time to bond as much as we have been since we've been home."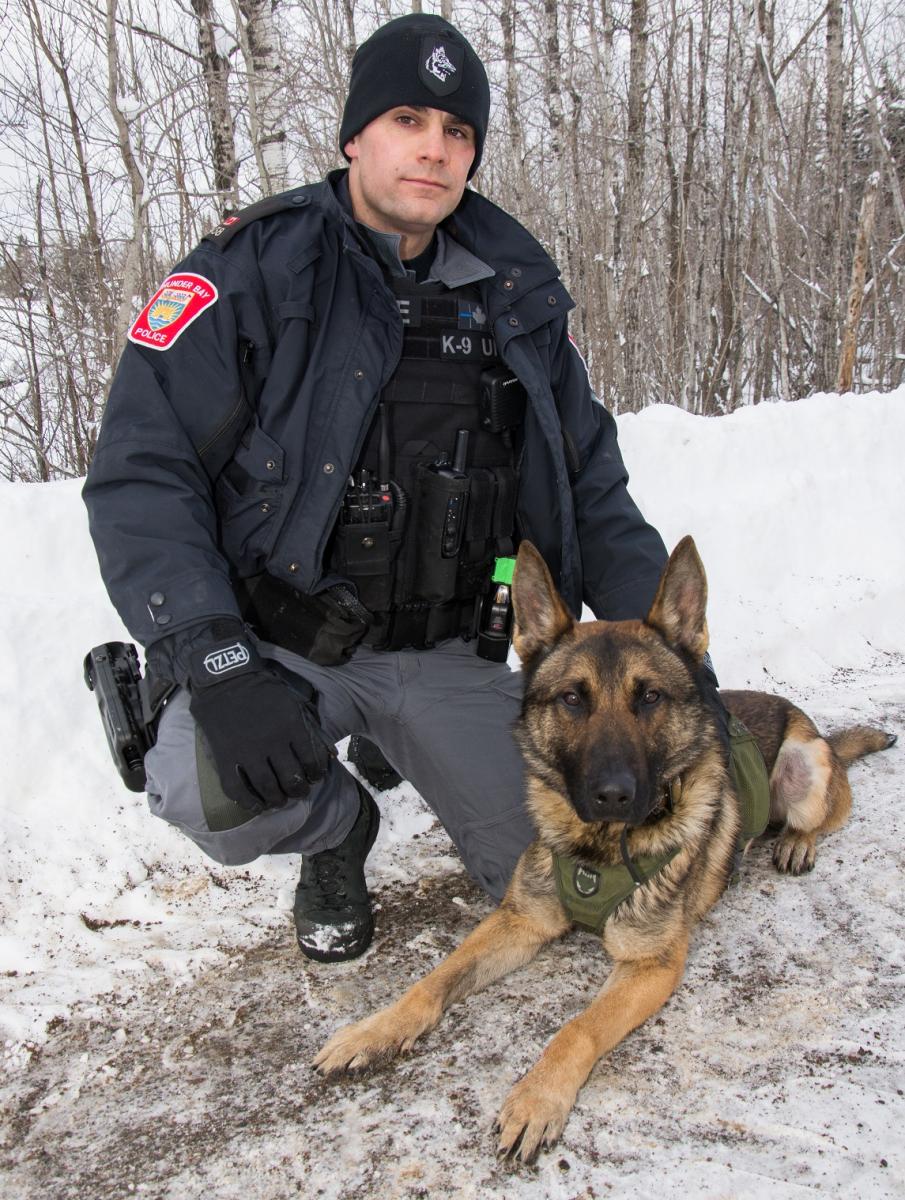 The name Lucek was provided by the original breeder in Slovakia, and the name loosely translates from that language to mean light or bringing light.
For the Thunder Bay Police Service, Lucek provides a unique skill set that can assist in a variety of incident types. Most notably, Lucek and Cst. Berube will be deployed to search for people, including suspects, persons of interest and missing persons. The unit will also be tasked with article search and making high-risk arrests.
Uniform Patrol Insp. Derek West sees the addition of a K-9 unit as an important policing tool for the service.
"The Thunder Bay Police Service is really excited about the investment we've made in the K-9 program" Insp. West said. "We're very confident that Cst. Berube and Lucek will be a great addition to the service and will serve the community well."
By Scott Paradis, Thunder Bay Police Service