(THUNDER BAY, ON) – Thunder Bay Police Service officers raced toward the city's south-side just before 10:30 p.m. on Friday, Oct. 25 to reports of two shots being fired and a car fleeing the area.
On his cruiser's computer console, Uniform Patrol Branch Cst. Andrew Childs received two vital pieces of information – an address and call type. The address line pinpointed an exact Vickers Street home the apparent shooting is believed to have taken place at; the call type read more broadly as "Weapons Call."
A voice from dispatch came through the constable's radio to give context to the call type. Information provided by a 911 caller indicated two shots were fired and an unknown vehicle quickly fled the area. The vehicle may still have been in the area as the group of constables, with their sergeant, from Uniform Patrol Branch's Unit A arrived.
"You can't jump to conclusions about what you're really getting into," says Cst. Childs. "The call (details) prepare your for what's going on, but things can change so fast."
A call that appears to represent elevated risk can turn out to be mundane, while a call appearing innocent on the surface can be volatile and dangerous.
Officers faced an example of the latter early that evening, before being dispatched to reports of shots fired.
Shortly after 9 p.m. Cst. Childs and fellow Unit A officers arrived at a May Street address. The call type could lead a layman to believe officers were about to deal with an innocent noise complaint. Further details from dispatch, through the police radios, proved the matter to be more complicated.
The residence in question was believed to be home to several individuals connected to gang and drug activity. Officers held a brief meeting in a nearby parking lot to plan how they could safely approach a potentially turbulent situation.
This kind of precaution, and the ongoing attitude of never assuming or prejudging a call, is a vital component for officer safety, explains S.Sgt. Shawn Harrison.
"We're trained to go to calls and consider what we're going into and think about what we're going to do at that call," Harrison says. "You can't make the assumption because the very fact is you might be going to something that seems non-dangerous, like a noise complaint, but it ends up being a situation where there are drugs and firearms."
S/Sgt. Shawn Harrison is the Unit A watch commander. As constables and sergeants from his unit migrate from one call to another, he remains at police headquarters managing the policing of the entire city.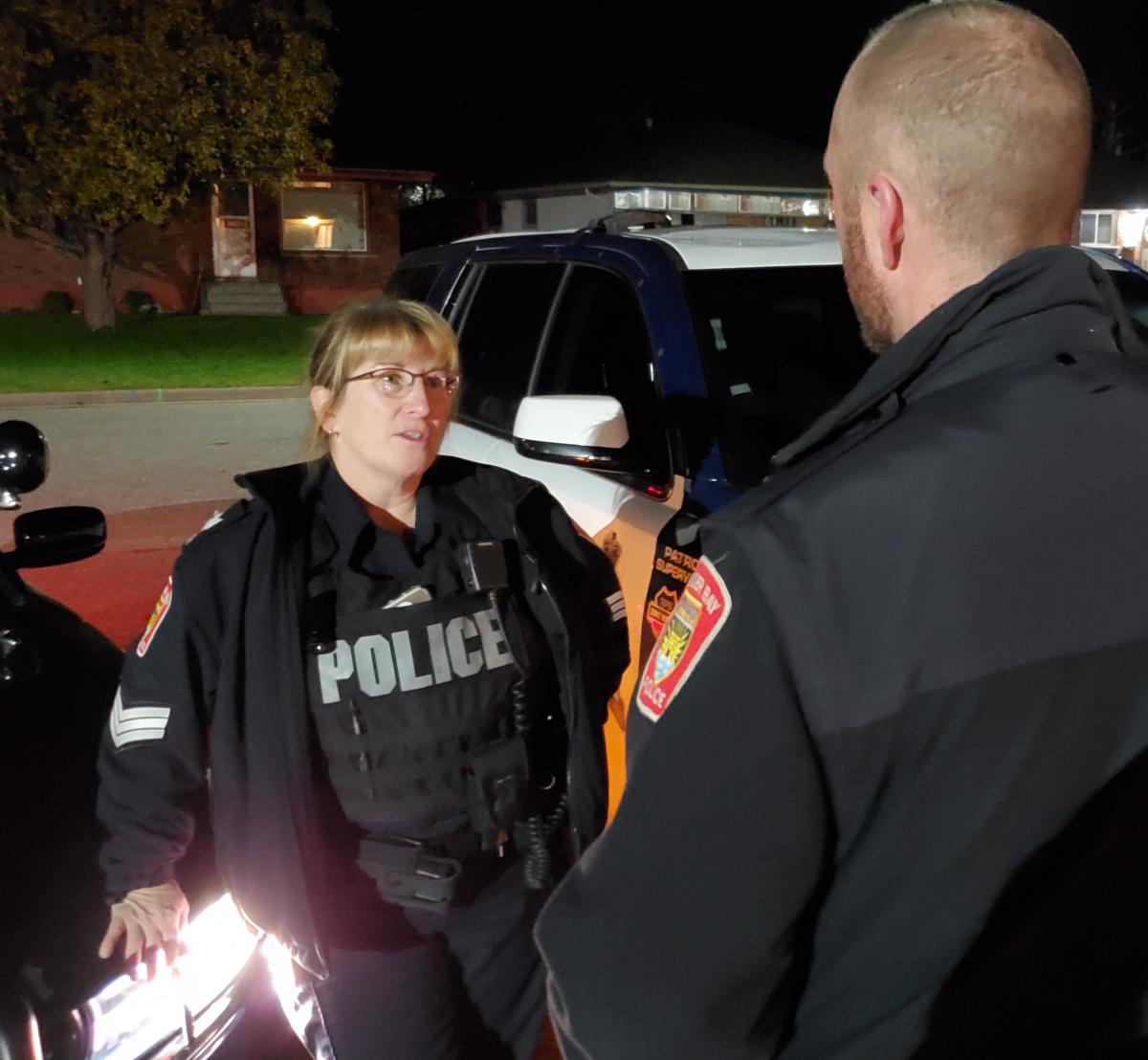 His office, colloquially referred to as 'the bubble,' buzzes with activity as Friday night turns into Saturday morning. Just like the frontline officers heading to various calls for service, the watch commander remains open-minded during every call and never makes assumptions about risk.
"My job is to ensure that the job is completed," he says. "My job is also to ensure the officers are safe and, as much as I can, help them consider there's more to these incidents than may meet the eye."
Back at the May Street residence the constables and sergeant have formed a plan to safely approach the noise complaint. They knocked on the apartment door an engaged in polite conversation with the apparent tenant.
What appeared to be a simple noise complaint was unfolding as the call type advertised. In seconds that changed. Tensions suddenly spiked as several individuals were found to be attempting to hide from police with unknown but suspicious motives.
The information relayed from dispatch earlier in the evening proved correct, as two individuals who self-described themselves as "friends from Toronto" were revealed to be unwanted in the home. With police assistance the unwanted individuals were removed without incident.
The call didn't result in violence, but the threat of such violence was real in a way a call type just cannot articulate. While dispatch provided key information to prepare officers, police have to approach every call knowing dangers could be hiding in the unknowns.
"It's all parts and parcels of officers' safety and ensuring that you and the public are as safe as possible," says S/Sgt. Harrison. "Officers have seen, unfortunately, numerous times where we have a situation with drugs and guns and people who have, or are willing to, use those guns."
Back at Vickers Street, where officers arrived to the reports of gunfire, the area is checked and no suspicious vehicle is found. Police begin interviewing area residents who heard or may have witnessed the apparent shooting.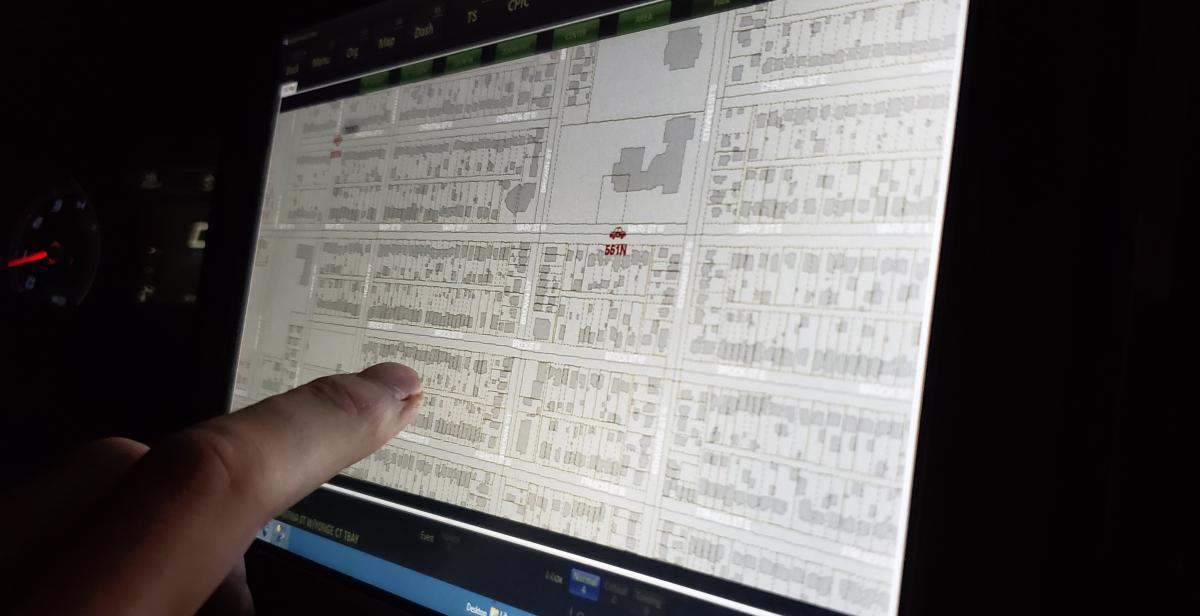 After collecting information from about half-a-dozen sources officers have enough information to make a conclusion. The supposed gun shots were fireworks, and the vehicle speeding away from the area was likely unrelated.
Up until the conclusion of that investigation, none of the Unit A officers had the luxury of assuming they were safe.
"You can never assume anything when going into a call, you just have to prepare yourself for the worst," says Cst. Childs.
The night progressed with a variety of calls for Cst. Childs: Two separate assaults; an eventually located missing person; a welfare check; a shoplifting; reports of potential car hopping; and more.
Boiled down to a call type and placed into a list, each call for service may sound routine and perhaps even straightforward. On the frontline, no call can be described as such.
By: Scott Paradis
---
From the Frontlines is a new eight-part series put together by the Thunder Bay Police Service to help showcase the work and highlight the challenges for frontline Uniform Patrol Branch officers. A new From the Frontline article will be featured every week on the Thunder Bay Police Service website. The features are assembled with real officer experiences as observed through ride alongs by a civilian member of the service's media relations department.
The first four parts of From the Frontlines will be published throughout November. The remaining four parts will be published in January 2020.